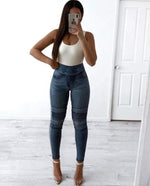 Wakee Denim Stretch Panel Biker Jeans: Things You Should Know About This Best Seller
Customer review: Panel Biker Jeans sold by The Zebra Effect. 
If the last few years have taught us anything, it's that no one wants to be wiggling into a pair of jeans that don't quite fit. You know the drill–the shimmy to get the stiff denim over your hips, the 'lie flat' tactic to get the button done up, and the acceptance that you will be standing for the rest of the day lest you want your stomach circulation cut off if you choose to sit. Our ever-increasing gravitation towards active wear and loungewear tells us that comfort is key–and the Wakee Denim Stretch Panel Biker Jeans are like a warm hug for your legs and butt. What could be more comforting than that?
But what is it about these Panel Biker Jeans that makes you want to curl up on the couch and hit the town simultaneously? Why, it's comfort AND style of course!
COMFORT: Sizing
There's nothing worse than finding the most gorgeous pair of jeans only for them not to have your size (there's more than three sizes people, am I right?). But fear not, these Panel Biker Jeans come in sizes 6-18. Don't know what size you are? I mean, who really does… BUT the Panel Biker Jeans are STRETCHY so sizing down is recommended. They may feel firm to begin with, but that's good! Your Panel Biker Jeans will be hugging your curves just right within a few wears.
STYLE: Colours
You didn't really think such a highly sought-after jean would only come in one colour, did you? If us connoisseurs of comfort and style know one thing, it's that if you find something that looks and feels great, buy it in every damn colour. The Panel Biker Jeans come in FIVE colours–light blue, mid blue, navy, black and grey. That's a pair of Panel Biker Jeans for every day of the working week with the chance to re-wear your favs on the weekend!
COMFORT: Waistband
Tummies rejoice! The Panel Biker Jeans have a wide waistband that sits comfortably firm on your belly. We all need to learn to love our pooch, our pot, our paunch a little more (it protects are reproductive organs for Pete's sake) and these Panel Biker Jeans give it all the love and affection it deserves. There are no buttons, so the 'lie-flat' dance isn't needed–in fact, you can just slip the Panel Biker Jeans on and off–and your tummy will thank you when there is no ugly red line pressed into its supple flesh at the end of the day.
STYLE: Ribbed Detailing
I want to make a ribbed for your pleasure joke, but I won't (or I just did?). But the fact is, the Panel Biker Jeans are ribbed at the knee, giving you that ultimate cool girl look. You may have never ridden a motor bike in your life, but that shouldn't stop you from looking fly. The ribbed detailing on the Panel Biker Jeans is subtle, so as to not detract from the rest of your outfit, but to add a little bit of interesting texture to the overall look.
COMFORT: Soft & Stretchy
Have I mentioned that these Panel Biker Jeans are stretchy? Well I'm going to say it again, because stretch equates to comfort–no one wants to be stuffed into a garment they can hardly move or breath in (we did away with corsets for a reason). The Panel Biker Jeans are also SOFT, with a skinny leg that hugs your pins. You could really run a mile in these Panel Biker Jeans (or ride a motor bike…) and not a thing would be out of place afterwards. Your legs, butt and tum will thank you.
Author - Guest Blogger / Valued Customer: Daniella Di Carlo