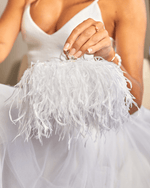 Top 5 Bridal Jewellery Pieces Every Bride Should Consider To Feel Complete On Their Big Day.
When it comes to bridal jewellery, it can be hard to think of anything beyond the sparkler on your left hand. And yes, while the engagement ring and its accompanying wedding band are the main event (which the best man should absolutely NOT forget to bring along), there's much more to bridal jewellery that will have you looking and feeling your best on the big day.
Something for your ears
If diamonds are a girl's best friend, pearls are definitely the second-best friend! Like Sharon Strzelecki, pearls are enduring, sweet and will always be there to make you feel good. Consider upping your bridal jewellery game with some freshwater pearl earrings. Most brides tend to wear their hair up or at least tucked behind one ear, leaving their lobes on full display (and no one wants naked lobes!) Freshwater pearls add a touch of romance to your ensemble, especially when paired with gold for the ultimate show of opulence. Pearl earrings are timeless, which make them the perfect piece of heirloom bridal jewellery to one day be passed down.
My pick: Izoa Youllie Earrings Gold Pearl $54.00
Something for your right hand
Yes, yes you've already got the most important rings sorted–but what about your other hand? A bride's right hand, while often neglected, needs some loving too! Consider adding a ring to your bridal jewellery ensemble. It will balance out your final look, and–if you can get your hands on a mother's or grandmother's ring–gives you a chance to knock out your something old and borrowed. Or you could start your own tradition by buying yourself a ring! It'll be a piece of bridal jewellery you wear again and again, an at hand reminder of your big day.
My pick: Izoa Edwina Ring Gold Pearl $59.00
Something for your wrist
Not only do bracelets look pretty–they are practical too! If you're in the habit of fidgeting or think you might need something to quell the wedding day jitters, consider adding a bracelet to your bridal jewellery collection. It's something you can reach over and touch–spin the bangle around or fiddle with the beads. It will ground you and remind you to be present (the day can go shockingly quick!). Freshwater pearls are a bridal jewellery failsafe. Add a string around your wrist OR if your dress is extremely detailed, opt for a thin bangle in the metal of your choice.
My pick: Izoa Kathleen Bracelet Gold Pearl $69.00
Something for your hair
Gone are the days of gaudy 80s tiaras from the bridal jewellery repertoire–now it's all about bejewelled head bands and embellished clips. Clips are delicate, pretty and real handy at pinning down a hair-spray evading flyaway. To balance out the upper section of your bridal jewellery, you can go big on the hair clips and simpler on the earrings, or vice versa (personally, I'd go big on both!) Headbands are also a fantastic option to consider–they give your veil fastening somewhere to hide, and keep you looking and feeling like a queen when it's time for the veil to come off.
My pick: Izoa Kylie Headband Pearl $59.00
Something to carry your things
Perhaps the most important but overlooked bridal accessory of them all–the bag! Your bridal jewellery takes centre stage, but you still need something to carry all of your stuff. Phone, lippy for touch ups, compact mirror so said lippy doesn't end up all over your face, maybe a mini fan (which I HIGHLY recommend for summer weddings) and of course some tissues. Go with something that has just enough space to fit everything, but will also work cohesively with the rest of your bridal jewellery. I must confess, I have a soft spot for the Izoa Beatrice Feather Clutch because she was my bridal bag–her glamourous feathers were beloved by all AND she fit everything I needed, including the mini fan!
My pick: Izoa Beatrice Feather Clutch $119.00 (ETA back in December 2023).
Author - Guest Blogger / Valued Customer: Daniella Di Carlo