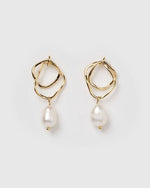 Affordable Natural Freshwater Pearls are a Trending Bridal Jewellery Must-Have this Wedding Season.
Let's set the mood, "Alexa play 'Perfect', by Ed Sheeran".
We have the inside scoop on what everyday brides are getting their hands on when it comes to bridal jewellery. Read ahead.
_
Marriage. It's a big deal, especially for the bride who has likely dreamt of this day for a long time coming! It's a day of beauty – delving into the bridal world of art, emotions, connections, amazing cuisine, and beverages ("Oh wine is fine, thank-you").
The height of a wedding day is ultimately fashion, a pinnacle attribute in almost every guest and bridal party calendar.
Social Media has added a new level of meaning for brides, grooms, bridal parties, and guests to showcase their big day. With the likes of Facebook, Instagram and the fast-growing TikTok, it has a way of changing how people view the arrangement – from the proposal, bridal reveal, the entrance dance, the cake, entertainment, the funniest best-man speech of-all-time; or the kind of dessert table that can even make Willy Wonka blush.
The truth is competition is fierce, the bar continues to raise, but it doesn't have to spoil the experience or take away from what is actually important. It doesn't have to interfere with plans of a secure financial future, either. By utilising Google Shopping and Social Media, the search for affordable bridal gizmos and gadgets can be effortless.
It's no denying, weddings can be an event of high expense, but when the research is done, it can certainly help marry up love and budget for a most fashionable and affordable event! Take Bridal Jewellery for instance, there is an opportunity to spend less, and we can show you how (ahead) without compromising on your stylish look!
Affordable Bridal Jewellery all under $70
Social media has given reach to smaller wedding suppliers, resulting in lower retail margins by offering access to larger ranges of products and higher availability; without compromising quality. And this is where we step in…
So how can we be part of your wedding day? We sell jewellery in bundles for BIG days of saying "I Do" and we make it very easy from one sale to the next. Our socials have showcased sought after Bridal Jewellery that is affordable and appealing on the eye.
So what is trending? The answer is simple, it's all in the natural freshwater pearls. Freshwater pearls are totally vibing as a go-to best seller Bridal party jewellery option.
Top
5 Bridal Party
Accessories Based On Popularity
Love Is Blind 3 & Natural Pearls
Lately, we've been investing emotions into many love-styled Netflix series. Netflix original Love is Blind 3 recently aired and geez, the brides were smoking this season with their on-screen fashion. The Zebra Effect team could not stop chatting about their fashion choices and what makes a bride's day special. 
It was an interesting watch and regardless of the pod couples making it *spoiler alert* (Colleen and Matt) or not (no one else), this season's cast was beautifully styled at the altar. Nancy Rodriguez one of our favourite brides adorned the trending ivory mother of pearl earrings and looked breath-taking.
Although, their fashion was on-point (trending jewellery and everything else), unfortunately not all their relationships married up. We're guessing this experience has given life lessons on their quest to hopefully find that happily ever after.
It's definitely shown that when falling in love it can be one of the most amazing experiences to have in life and with a little guidance and planning, the wedding should feel like this too!
So let's bring out the bonbonnieres and enjoy this wild ride called 'love'.