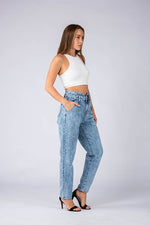 The Jean Guide : Denim Down Under
Jeans that are made for your genes!
Finding the right pair of jeans to suit your fashion game can be a super fun task and rewarding once your parcel arrives at your door. The know-how of fashion, colour combination, and styling can be made very simple when you find the right brand (aka make) destined for you.
Jeans mean more now, as it has become a permanent in modern fashion. In Australia, there's an abundance of women's denim styles waiting to be owned and loved, but it's a matter of ensuring the right pair is always reliable and appealing on the eye. So, here's a QUICK GUIDE of the types of styles, rises and lengths, alongside wear tips to get your online shopping cart prepped for success.
Let us strip back the process and explain the science behind accelerating your fashion game.
STYLES DEFINED
Boyfriend Denim –
A slouchy cut boasting a relaxed fit all the way from the waist, hip and down to the ankles. A style that is seen as masculine, although modified and designed for her. A style that is often referred to as borrowed from him, by her. It's loose and comfortable. An everyday denim staple, a style that hides your unwanted body shape features (vulnerable ones) due to a generous amount of fabric on offer.
Wear tip: Belts and heels are a great style-add, accentuating a feminine touch to an item that depicts masculinity. Cuff this jean style at the ankles for a clean finish.
Bootcut Jeans (Flares) –
A jean that hugs the thighs and then flares out tapering at the knees and widens down to the ankles.
Wear tip: Designed to sit over your ankle boots for a 'polished' look. This style can create an illusion of one being taller and slimmer. It is still flattering as it creates shape for all figure types.
Mom Jeans –
A relaxed jean from the waist down and then tapers at the ankles. Often found to have a high waist.
Wear Tip: Tuck in a tee and throw on a bomber with some slides to complete your outfit. These jeans are great for flattering the figure while still offering uber comfort and not objectifying your body shape (due to the ample material on offer).
Skinny Jeans & Jeggings –
A skin-tight hugging fit from your waist to your ankles. Often snug in the seat, thigh region and ankles.
Wear tip: Throw on a blazer paired with a cute blouse, cami or graphic tee and you have a sophisticated/edgy look, which can be worn in the workplace and then quickly transition into an outfit to attend after-work drinks.
Slim Jeans –
A slim fit all the way down from your waist to your ankles.
Wear tip: Great for a casual outing, paired with a statement cardigan and sandals/wedges. A wonderful pick, for anyone with a slender frame, who wishes to not have skin hugging pants.
Straight Leg Jeans –
Same width from the thigh going straight down to the ankles.
Wear Tip: Choose a blouse which highlights your waist in this style of jean, to create a curvaceous shape that will embrace your feminine silhouette.
Wide Leg –
Fitted waist, relaxed thigh (creating extra room for those with thicker thighs), to then, extend out wider all the way to the ankles.
Wear tip:  Crop tops are a great way to elevate the look of wide leg denim jeans.
RISE
Rise can be impacted based on your individual body length, below is just a guide regarding placement.
High – Designed to sit above or on your belly button. High waist jeans are usually great at hiding those unwanted tummy woes!
Mid – Designed to sit below your belly button.
Low – Designed to sit comfortably around the hip region.
LENGTH
Full Length – A longer inseam and outer leg length for those who have been gifted with height (taller people).
7/8 Ankle Grazer Length – A jean pant that's designed to sit at the ankles or close to the ankle (shorter in height).
Denim jeans are perfect additions for capsule wardrobes and trans-seasonal wear.
At The Zebra Effect, our Wakee Denim Australia range has a variety of jeans to suit each and everyone. The brands quality material, tailored designs, colourways, and fit/cut creates a best seller ratio. Women all around are looking fabulous in Wakee Denim statement clothing and you can too. From the best seller biker panel ribbed skinny jeans to wide leg pure cotton breathable and comfortable jeans. Wakee Denim comes in an abundance of ladies' sizes; 6, 7, 8, 9, 10, 11, 12, 14, 16 and 18. At TZE we are running clothing sales a plenty for the best possible quality ladies' fashion at an affordable price – bringing to you pay later options such as Afterpay Pay Later & Humm Payment Options, flash events, Cyber deals, Black Friday specials, welcome sign up and reward discounts slashed off the RRP.
The most popular trending denim jeans right now are baggy, loose, wide leg, straight leg and boot leg jeans in high-, mid- and low-rise varieties.
There are a lot of wearers, especially the baggier preference being at the forefront of Gen Z'S denim of choice (yes, the jean movement was heard loud and clear). Despite this trend making being loud and proud with our youth, the skinny high-rise is just as prevalent and ever reliable contenders in the fashion stakes. Skinny denim will always be available and a popular option for lasting the distance in an everyday go-to wardrobe and it is evident in our customers feedback, reviews and our ability to power sell ladies' skinny jeans across Australia and the globe.