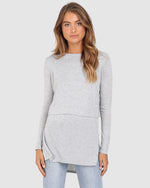 Hana Overlay Knit by Madison The Label
Shivering on the edge of the road, I hastily scan iconic Hampton Street – waiting for my chance to cut through traffic back to the office, as a truck speeds past and sprays me with the essence of a dirty cold Melbourne winter puddle, through gritted teeth I (Tammy) exhale, "Well played winter, well played…"
June marks the first month of winter in Australia and while Australian's take this opportunity to start booking their European holidays to escape a type of cold you feel in the core of your being, the majority of Melburnians have to endure the work grind in our much loveable, but 'bloody cold' city.

Winter fashion for some is a welcomed calendar event – basking in the knowledge that they have amazing trenches waiting to debut for the season accompanied by coveted thigh high boots. For others it is an excuse to simply rug up… in some cases in what may appear to be their doona?
Melburnians hit the retailers both online and in person in search of winter essentials. Therefore, prepare yourself for the flood of The North Face, Kathmandu & Madison The Label puffer jackets... vests, heavy knits, an array of sleek leather jackets and your trusty hoodies … to fill cafes, walkways, shopping centres and strips. However, my question to you is rather than bulk up, have you considered the art of layering this winter? My winter style secret is literally overlays, as this can easily add character to your outfit – and of course, keep you warm.
If you are on the hunt for a trusted wardrobe essential or knit, look no further… you can thank me later! Currently I have a serious crush on the Hana Overlay Knit (by Madison Square Clothing) in all colours - black, grey, beige and khaki! It is so easy to wear and hugs in all the right places, if you get what I mean?

About the Hana Overlay Knit….
1. It is a chameleon, by that I mean the
Hana
 comes in so many colours: black, grey,  khaki and beige.
2. It can be dressed up with a sexy Mom jean and a pair of mean kicks, or alternatively dressed down with low-heel boots or your favourite street trainers.
3. It is the ultimate layering piece. Stay warm and look fabulous when you layer away.
4. Trend alert! This knit has a stepped hem, which means it is longer in length adding to the appeal of layering!
5. Long front coverage for those days where you genuinely want style and comfort…. And maybe an opportunity to comfort eat ;)
6. It hosts a stylish crew neck (aka. round neck), which is starting to make a comeback in fashion circles. So the good news is that a crew neck always complements the other features of your garment, as it is a subtle detail.
7. Due to the light-weight of this garment, it easily transitions from winter to spring and then summer – versatility in your wardrobe is essential!
8. Layered panels are a great way to utilise one colour and still ensure the garment has character and charm! Check!
9. It is 55% Acrylic and 45% Cotton. Therefore it has elasticity and still remains breathable!
10.  Washing is easy – delicate hand wash (or cycle) added garment protection if you put it in a wash bag, make sure the temperature is set on 30 degrees. Dry and then lightly iron for the best results.

So I encourage you to check out the range of Hana Overlay Knits available online this winter and see for yourself. It's a gem to have in your wardrobe.

SHOP here -
https://www.thezebraeffect.com.au/search?type=product%2C&q=hana