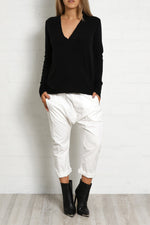 5 Tips for Sparkling Blacks and Whites*
We can't resist quality, classic pieces which last and last.
We invest in real clothing pieces which morph into multitudes of different looks and styles (whether it's a bit of layering here or a slinky accessory there), fabulous, versatile pieces you can wear many different ways often. We make our clothes appear at their best!
But don't you hate it when your fav white shirt starts turning grey and those jet black jeans start to look a little less than jet? Our B&W's get so much love (and washing) that we need to give them a bit of extra laundry attention to keep them sparkling in great condition.
These 5 simple tips will make sure your Zebra investment will serve you faithfully wear after wear after wear after wear after wear...
Tip 1. Separate! Your mum's been saying it for years and she's right – to look after your whites and blacks you have to wash them separately. No stress! Whites (and some lights) go in together. Darks go together. Even if this is the only tip you walk away with, your clothes will instantly retain their original shades for so much longer, especially if you wash with cold water!
Tip 2. Don't go too much detergent. Forget what you think Napisan are telling you. Dig out your washing machine manual and see how much laundry liquid it says to use in there. (Laundry liquid companies want you to use more – but you don't need to!) Too much detergent leaves residue on your clothes, which actually make them pick up more dirt and residue. Only use enough detergent for the wash, and no more.
Tip 3. Give the dryer a day off. Often. The dryer will bleach out your darks, and will heat scorch whites giving them a yellow tinge over time. Air-drying clothes is so much healthier for them, and for the environment. Air-dried clothes ball less, wear slower, and retain their shape for much longer. If you must use the dryer, turn everything inside out first. To get the stiffness out of air-dried clothes, just finish them off in the drier (5 minutes or so should be enough) to make them soft and fluffy again.
Tip 4. Realise the power of Vinegar. Vinegar really is a gift from the fashion gods! Your whites will love you for this next tip! Add about ¾ of a cup of white vinegar to the rinse cycle on your white load, just before it ends. The vinegar acts like a fabric softener – but it also cuts through oils and soap which make whites look dull over time. And it's not just whites which will benefit! If you add vinegar to the wash when you clean your new clothes for the first time you will actually help set the dye, and prevent fading long-term. Vinegar also removes the musty washing machine smell your clothes can get after a while (once dry, the subtle vinegar scent will disappear). Hooray!
Tip 5. Lemon juice & Baking Soda make the best natural stain remover! Combine 4 litres of warm water with a cup of baking soda and the juice from a lemon in a basin, and soak your whites in it overnight. Make sure everything is completely submerged. You'll be surprised how discoloured the water will be by morning, and by how many shades lighter your whites have become! Rinse them thoroughly before you wear them.
Here's one extra bonus tip for speedy-drying your favourite shirt quick smart: Throw a dry towel into the dryer with it – It'll be ready to wear by the time you've blow-dried your hair!
* Tips and tricks are used at your own discretion.