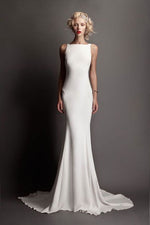 White Wedding Dresses - Shopping Different Styles
By the time you're ready to go wedding dress shopping - no doubt you would have already created boards upon boards of dream dresses on Pinterest, and screen-shotted your heart out on Instagram. So many brides want nothing more to try on every dress that exists - just to make sure that they leave no stone unturned! However when it comes to it, one appointment in you'll notice that trying on the dresses is a whole lot physically and emotionally harder than a simple like on Instagram. So before you go in to try on those dresses - have a think about what dresses will look best on your body, what style matches your personality and what will work with the look of your wedding. This will help you narrow down the huge selection of dresses out there, and make the whole experience that much more enjoyable.
One of the easiest ways to limit your options is to narrow down a silhouette that will emphasise your most loved assets, and flatteringly hide your problem areas. 
The Princess Dress. This is the dress that will make you look like you've stepped right out of a fairytale. It often has a fitted bodice, and flairs at the waist or hips with a full skirt. A lot of figures can pull this off, since it hides the lower body that so many of us have insecurities about.
Pablo Sebastian Princess
The A-line and Modified A-line. This dress is probably the most universally flattering dress for all body shapes. It perfectly accentuates the female form - fitted on the bodice and just to the hips and then gradually flaring out to the hem - forming an 'A' like shape. 
A-Line by Sophia Tolli
Modified A-Line
The Trumpet and Mermaid. These two shapes are very similar, the trumpet is fitted through the body and flairs mid thigh, whereas the mermaid flares out closer to the knee. These dresses are ideal for slender and hourglass body shapes who want to emphasise and show off their killer curves. They can accentuate the stomach and hip area, so if you're an apple or plus size body type and you love this shape - try to opt for a more structured gown or invest in a good pair of spanx so the gown hugs you in all the right places. Petites also have to be careful with the mermaid gown as it can often make their legs look very short - they should opt towards dress which flares out asymmetrically to elongate the legs.
Mermaid Berta Bridal
The Sheath. This is a narrow shape that flows straight down from the neckline to the hem. This shape is increasingly becoming popular as brides are opting for more minimalistic looks. It's ideal for lean frames and can also look rocking on an hourglass who wants to show off their curves. 
Sheath
By Ella Zampatti - hello@thewhitefiles.com.