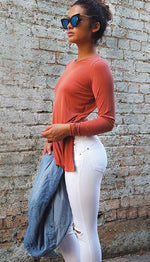 'Jeans in fashion are like the mascara on your lashes; you need them in your wardrobe, and good ones!'
So when it comes time that your fav pair is totally in need of a ceremonial goodbye (why, oh why?), shopping for the right pair can be a somewhat traumatic experience.
If you're like me and mostly comfy in your own skin, you've probably found that shopping for jeans is the one time you end up in that body-hating zone, where you feel like you've tried every pair in the shop, but nothing seems to fit you (and you find yourself asking "what's wrong with me?") and your self-esteem dives.
It's easy to get overwhelmed. But if you understand a bit about the types of jeans which are out there; the cut, rise, waist and leg – you can narrow down your options till you have a few which are more likely to suit your body-shape. Even better, shop online our
Refuge
range! (We will send out your purchase the next-day and returns are free), so say goodbye to change-room trauma!
Here's our Zebra Effect how-to for navigating the jeans jungle and landing the right pair next time you shop.
The Basics
Ah, there's enough going on out there in the world of Jean's to confuddle even the savviest jean-seeker… Skinny or straight? Bootleg or slouch?
Crop, mom, flare, stretch, or straight leg? It feels like there are so many variations it can be hard to make a decision; but really, there are only two or three variables and the rest are combinations of the above. Here's what you need to know:
The Rise
This is how far up your waist the top of the jeans will sit. Low rise jeans sit below your waist. Mid-rise Jean's sit mid-way up your waist. High-rise Jeans sit at your waist. You'll find that whichever rise you prefer, you'll be able to get it with almost any leg variation. Which brings us to…
The Leg
Speaking of Legs!
Boot leg
is precisely that – the jeans leg is tapered outwards at the bottom so you can wear boots underneath.
Flares
are another variation of boot leg jeans, but the taper is exaggerated. Think 70's! Flared jeans are a style in their own right!
Straight leg
jeans are also precisely that – the width of the leg is the same from thighs to ankle. Paired with the right top and shoes, straight leg jeans can look on the formal side (and make good day-nighters).
Skinny leg
jeans are on-trend right now. The leg of the jeans are a snug fit right down your leg to your ankles. Super-skinny leg jeans are extra tight! Today's skinny leg jeans are often made from stretch or semi-stretch fabric and have lots of give, to comfortably fit many figures. We recommend giving them a try.
The Cut (The Fit)
Jeans can be cut specifically to exaggerate different areas of the design outside the rise and the leg.
These variations include the crotch (you'll find boyfriend, Girlfriend and 'mom' jeans are all characterised by a dropped crotch) the pockets (pockets stitched either close together or further apart are a style variation which can give the illusion of a flatter or curvier lady behind), or crop (where the leg length ends well above the ankle or even part way to the knee). The cuffs can also be a feature (think boyfriend or Girlfriend jeans which often have a rolled-up cuff for a cool, casual look).
The Fabric (The Wash)
The last variation to think about is the fabric itself (or 'the wash' in jeans speak).
Fabric can have a huge impact on the way the jeans fit you; so consider if you want a firm, shape-making structure or something with a bit more give.
For different trends and looks, there are so many exciting fabrics available! Some jeans will fade with washing, but this can be charming! If you don't want them to fade, you can spot clean them. Some jeans have even been pre-distressed (washed to accelerate fading), ripped, or frayed to form character to its design and to your style.
And let's not forget jeggings… which look like jeans but actually should be worn more like leggings.
The One!
Once you've found a pair of jeans you love and which fit, buy two or more of that very label, and experiment with different colours! Lots of our customers do this with our
Refuge denim
collection.
Your wardrobe will benefit from having three to five pairs of jeans at any one time: a couple for work or going out (dark shades, straight or skinny leg jeans) and a couple for weekends (boyfriend or slouch jeans you can wear with flats or canvas shoes) and the reliable stretchy pair as your comfy go-to fav's.