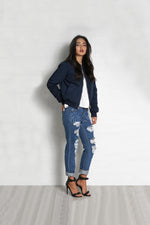 The Game Changer Bomber Jacket
'Channel your true inner style queen, with this navy Bomber Jacket now on sale at The Zebra Effect.'
Boom, it's here.
The Bomber Jacket by Madison Square Clothing, has been labelled 'The Game Changer' in chic outerwear this season. Be inspired, with this killer Autumn to Winter wardrobe piece that is bound to be a hit amongst you and your girlfriends.
Its label is Madison Square Clothing, a clothing label that continues to represent the utmost in quality clothing. With years of experience, Madison Square's Bomber Jacket will mostly likely be your favourite outerwear for ticking all those necessary boxes (you know, the ones like… look, feel, style, cut, fit, colour and function).
Wear it, snap it, share it on Social Media and kick-start your claim to fame. Don't forget to hashtag #OOTD and #influencer whilst working your charm on Instagram, with this popular outfit selection.
THE BOMBER BASICS
What is a Bomber Jacket?
The ultimate in street fashion, it's got an edgy sporty look, but with a feminine touch. When describing the Bomber Jacket, the following comes to mind – distinct design features; boasting a wraparound collar, zipper closure, snug cuffs and snug waist.
The History? The Game Changer.
Originally this jacket was called the 'flight jacket', created for military pilots. It was designed to keep pilots warm. Different designs and styles of the Bomber Jacket have emerged over the years to suit demand and necessity.
In the early 2000s, the Bomber Jacket was deemed popular in casual streetwear under hip-hop fashion. And eventually, this form of apparel became a part of popular culture for women all around the world.
Wearers of the Bomber Jacket have been seen far and wide – sporting it on the streets, in magazines, on the internet and even seen sold in our store – you name it. Celebrities have been all over it, which brings us to our next topic on 'who wears it best?'.
Who Wears it Best?

Good question, who really wears this ladies jacket best? In our opinion, Rhianna and Kim Kardashian of course. For inspiration on what to wear with your jacket, check out some shots we have found of both Rhianna and Kim rocking this style in the public eye.
Now, let us see you "work, work work, work, work, work" this jacket. Haha, thanks Rhianna. On a serious note; she has the style and we've got the jacket sorted for you, so now all you need to do is 'work' the look – transition it by throwing the Bomber over a long dress or wear it with some skinny leg jeans, or even represent it on its own with a mid length skirt to complete the outfit (as seen below in the first image).
#INSPO
Note: Images are for demonstration purposes only and are not the property of The Zebra Effect, in no way, shape or form will credit be taken for the use of these photographs retrieved from Google ("image source" - allwomenstalk, thesunuk & 247PapsTV). All information regarding the fashion history of the Bomber Jacket has been referred by using Wikipedia.