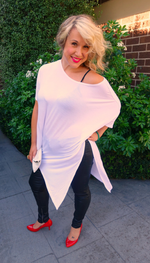 Pops of Colour! - Spicing Up B&W Outfits
GUEST BLOG
By Rosie.
Nothing says chic like a classic black and or white monochromatic outfit. It's so simple yet oozes sophistication. Being a Melbourne girl myself, it'd be remiss of me not to wear all black at least 75% of the time – it's basically the law!
However, some days wearing just black and white can be a little heavy and two dimensional, so this is when bright pops and splashes of colour can really spice up your outfit. This is where you can have loads of fun experimenting with your look and making it as basic or extravagant as you wish.
My favourite way to add a dab of colour to an outfit is by wearing a funky, bold pair of heels. It's by far the easiest way to inject some spice and it really makes a statement. What better way to wear those gorgeous heels you dropped a ton of cash on (we all have them!) than to show them off as the starring role in a B&W outfit?!
If shoes aren't your thing (gasp!) then add a pop of colour to your ensemble with a bright handbag. A girls gotta cart around her artillery in something and what better way than a dazzling clutch? These days you can pick up some cheap and cheerful clutches at stores like Colette or Kmart, so there's no excuses not to have a handful of pretty clutches to rotate around in your repertoire.  
Every girl has an LBD, but sometimes they're a little too dressy for a relaxed after work drink or that weekend BBQ you're invited to. What better way to re-purpose your dress than a colourful sweater worn on top for a more casual look. Team a funky hat and necklace to the ensemble and you're one cool cat!
But it's not only shoes, jewellery or a clutch that can infuse some drama into your outfit. Another easy way to add some simple colour is with a bright manicure and make-up. Don't forget your tips and lips, girls!
Remember you can be as OTT and outlandish as you dare! Want to be a rocking diva? Add a fabulous turban, hat or head scarf to the mix. Need to tone it down and keep it real? Stick to some fabulous earrings and keep all the sass in your handbag or coat. Keep it creative and fun and you'll always look fabulous! Fashion is about experimenting and evolving, so go out this weekend and spice up your look with a huge boost of colour!
Website: http://aredlipandanudeshoe.com/