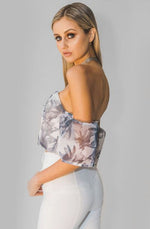 The Cold Shoulder Top (Off The Shoulder)
What's not great about looking and feeling fantastic in your own skin? This next trend is one for women everywhere to embrace (Hint: The ravishing Drew Barrymore rocked it at this year's Golden Globes). 
If you're yet to click and shop the cold shoulder look read on and allow us to show you why you should add a few off the shoulder pieces in your summer collection, yesterday. 
This trend is only on the up and up; which is proof this look is definitely worth a go. It is not often, (and it's refreshing indeed) to find a trend in which you do not have to be 25, wafer thin, hourglass shaped, flat stomached and all-over toned to pull off (and in fact, look sensational in), anywhere, anytime! 
And if you're only just discovering the cold shoulder look, you're here at a good time; because it's starting to morph into more gobsmackingly gorgeous variations like cut-out shoulders, one shoulder exposed and backless looks in colours, cuts and textures truly share-worthy – so you can swoop in take your pick of the best. 
Here's why the cold shoulder is most definitely for you. 
Your shoulders don't age 
Have you ever noticed? And not only that – your shoulders never get stretch marks, never have 'bad shoulder days', get bloated after a night out on the town, or require exy shapewear to hold you in. 
Your shoulders (along with your collarbones) are some of the most flattering parts of your body, and off-the- shoulder pieces draw attention right to them. Why hide your nicest assets when you could totally flaunt them and feel fab? 
And more: off the shoulder dresses, tops, knits, tees & tanks make use of gorgeous ruffles, and textures which drape luxuriously around your shoulders (check out our fav flirtatious Bella Floral Print Top by Ivory & Chain to get you started) simultaneously hiding the bits you always want to hide, and showing off the bits you love most.  
Up? Down? Anyway you like 
Let your admiration of cold shoulder looks continue; in fact we're confident our Zebra ladies will appreciate how effortless it really is to dress up or down a really quality cold Shoulder piece. For the evening, pair your classic cold shoulder blouse with a few choice sparkling gems, a flowing maxi or midi-skirt and your favourite pair of heels. Or for a chic everyday look, simply tuck in to your denim shorts or longs, and pair with sunglasses and some strappy sandals and you're good to go! 
(Tip: sometimes unstructured cuts can overwhelm your body, so be on the lookout for too much fabric! If you fear getting lost in folds, pair with high-waisted bottoms to bring proportion back to your look. As a bonus, lots of fabric cinched in with a belt can make your waist look teeny-tiny!) 
Perhaps you're a seasoned cold shoulder lady who has been reading with the sly smile of one who was trendy before the trend was a trend: this is for you! 
If you're into contouring with makeup, be in the know: contouring collarbones is a thing! (Youtube for a demo). You can highlight to make your bones pop even more, and slim down your décolletage for head-turning shadows without splashing out on any new products. 
Plus, exploit your profile neckline with silhouette hair – a messy bun or topknot, bushy ponytail or even symmetrical, collarbone -grazing braids will dramatise your cold-shoulder look even more. 
There's not a lot not to love about this simple but addictive style – as far as we are concerned, it's another fabulous way to wear (and be totally comfy) in your own skin - in style! 
Click to shop the Zebra Effect collection and enjoy free shipping to wherever you are in Australia.