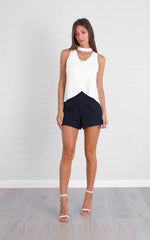 If you've filled your wardrobe with cold-shoulder beauties (this aw17 season's most flattering trend) then it could be time to experiment with Choker fashion – the two were just meant to go together.

What is Choker fashion all about? 

As the name suggests, a Choker is a form of close-fitting necklace which sits right up against your skin. If you can't get past Buffy the Vampire Slayer, just back it up a bit - like so many fashion trends borrowed from the 90's, the current reincarnation of this flirty and feminine fashion has done a lot of growing up! 

Chokers are oh, so trendy in suede, velvet, chains, ribbon, beads and leather this season; all the neutral monochromes or metallics that we love (and which go with pretty much everything)!

Unlike the bad-girl Choker of the 90's, today's choker fashion is sleek and edgy, and a cool alternative to a traditional necklace; plus a great way to update your look with just one simple addition.
Here's 5 ways to wear it (without looking like Sarah Michelle Geller):

1. The Cold Shoulder Edit
The Cold Shoulder trend exploits some of a girls most attractive assets – the décolletage, collar bones and shoulders, exposing and lengthening the neck in all its glory. In some ways, choker fashion is another extension of the cold shoulder look, as it draws attention to and accentuates your upper body in much the same way. More and more cold shoulder cuts available in stores even incorporate a choker feature (like our latest obsession, the black and white Blaire choker top by Rosebullet Fashion). 
 
2. Casual
There aren't many fashion accessories you can pair up with your timeless classics…as well as your two-piece gym gear. Chokers aren't just for a high-end night out! The casual choker look is refreshingly unexpected, but also…works. A simple choker band will instantly elevate your casual brunch-with-the-girls do, (just add sunnies and a takeaway latte) and add new suave to your mum-jeans, flats and tee. 
 
Hailey Baldwin
3. Statement Glamour What's more glamorous than a sparkling neck after dark? There are no rules when it comes to choker fashion, and that applies to bling. Pearls, leather, diamonds…can't decide? Wear them all together! There's something 'Egyptian-God' about a lady adorned with diamonds around her neck; it's all-class and all-too-easy to do. Gild your neck with gold or silver, layer multiple chokers, or combine choker with your favourite traditional necklaces – going OTT is part of the trend!  Tip: Glamming up? Remove or downsize your earrings and bracelets to avoid confusing the matter. The aim is to draw attention to the neck area; too much bling on the wrists and ears as well becomes less than classy, and will dull down the desired effect.
 
4. Boho Chic
Whether beach, wilderness, or festival is your Boho groove, Choker fashion is for you as well. A sweetly tied lace or suede Choker is so delicately feminine, and wears beautifully with all the softest drapes of the season. For a classic Boho look, choose a deep v-neck blouse or maxi dress, add a thin Choker and long tasselled necklace, with messy bun. Add extra interest to your Boho look after-dark by choosing a delicate chain, embossed lace or studded suede Choker, and nude lip. Chokers with charms are also charming for the Boho queen. Tip: The Boho style is always understated, so when it comes to the Choker, less is often more. Instead of adding more, think about changing up what you already have by tying asymmetrically, or making a feature of frayed fabric. 
5. DIY
Crafty Zebras, Pinterest devotees and DIY-ers come into your own here – DIY Choker fashion is fun, inexpensive and easy! It could be as simple as buying some ribbon from the local two buck shop and wrapping round, or get your needles and threads out to create something more complex. Can't bear to part with that old holey printed tee, or perfectly distressed denim? Get out your scissors, strip it back and wrap it round choker style and find all new ways to celebrate what you love about it. Hit Pinterest for some pin-spiration, as there's plenty to be had. Pinterest has many easy Choker tutorials.

Choker fashion is playful, adaptable and here for a good time (and hopefully a long time!). It's a trend we're loving as we continue our adoration of the Cold Shoulder look – check back often for more ideas, and visit our new arrivals to scope out all our latest Cold Shoulder and Choker Fashion items as they arrive.
Click to
shop
the Zebra Effect collection and enjoy free shipping to wherever you are in Australia.