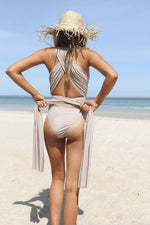 The ultimate guide to understanding common words that describe our fashion world as it stands today. Leave your own fashion definition in the comments section below! Go on, we'd love to hear from you.
A
A-line Skirt - Shaped like a capital A. This skirt is fitted from the hips and widens as it extends down.

Animal Print Clothing - Resembles an animals inherent pattern; of their skin or fur. Each animal print forms a distinctive style.

Applique - Fabric that features the same design, with more than one layer sewn on top of each other.

Attire - A word used to describe clothing.

Anorak - Anorak is a type of coat or parka, often accompanied with a hood.
B
Backless - Low cut in the back of the garment.
Ball Gown - A dress long in length and worn to an elaborate function.

Ballerina Skirt - A skirt made of multiple layers of fabric, full in length.

Bandage Dress - Made from multiple thin strips and pieced together to look like bandages. Usually referred to as a body-con dress. Aimed to hold the body in place with its tight fitting nature.

Bell-bottoms - Pants that flare after the knee.

Bikini - Two piece swimwear. Often worn by women at the beach or to the pools.

Blazer - A jacket that is often worn as a uniform or part of business attire (forming part of a suit).

Blouse - Upper garment similar to a shirt, sometimes with a collar and buttons lining the front. Can be sleeveless or have sleeves and is typically worn as a loose garment.

Board-shorts  / Surf Trunks / Jams - Shorts that a person can swim in, often long in length.

Bodysuit - One piece suit that is tight fitting.

Boho-chic stands for bohemian-chic - A fashion style that is considered free-spirited and hippie-like. This style of dressing is often referred to as the gypsy look.

Bouffant Gown - A rounded gown that appears puffy.

Boxer Cut - Squared off shape with minimal tailoring.


C
Camisole / Cami - An undergarment with shoulder straps that is loose fitting and worn on the upper body.

Capped Sleeves - A cut that elongates the arms with its short sleeves (non-standard length).

Capri Pants - Tapered pants that are tight fitting and at calf length.

Cardigan - Garment with an open front, which  can be fastened with buttons. Often worn as knitwear with long sleeves.

Cargo - Pants that are loose and have several pockets attached.

Coat dress - A dress that is tailored to look like a coat.
Coatigan - A cardigan that is long in length and tailored to look like a coat.
Cocktail Dress - Dresses worn to social and semi-formal events.

Costume - A style of dress taking on a distinctive theme and persona.

Cotton - A type of material that is made from a soft white fibrous substance, taken from a cotton plant (around the seeds).

Couture - Made to measure clothes that are classified as fashionable.

Cowl Neck - A draped neckline on a garment, that sits in folds.

Crop Top - A top that is short enough to expose the waist / navel.

Cuffed Jeans - A fold in the bottom of jeans that forms a band in the material.


D
Debutante or Deb Dress - A white dress to denote the coming of age for a women, who is deemed ready for society and marriage. Often worn with pearls and white gloves.

Denim - A strong cotton twill (weaved) fabric.

Dirndl Skirt - A skirt that has a tight fitted waistline and widens towards the feet. 

Dresses - One piece garment that is worn by a women and often reaches the knees in length.

 
E
Elastane - Elastic polyurethane material that is used for tight fitting items, such as hosiery and underwear.

Embroidery - Seen as an art, embroidery comprises of raised and embellished designs in fabric.

Epaulets - Decorative shoulder embellishment.

 
F
Fashion - Popular styles and trending for goods, such as clothing garments.

Fashion Blogger - A knowledgeable person who shares posts and articles publicly, covering off topics such as; fashion trends, styles, celebrity apparel, details on fashion brands and news.

Fashion Trend - A direction in which a fashion object is of popular use, discussion and influence.

Filigree - Ornamental fine wire with tiny beads added on.

Flannel - Soft-woven fabric made out of cotton or wool.

Footwear - Outer cover for the feet.

Formal Wear - Clothing suitable for big events.

Fray - Fabric worn at the edge on purpose OR fabric that has unravelled.

Frills / Fringe - Strips gathered on a garment, that is sewn on to a piece of the garment as a decoration.

Frock - A dress, which is worn as a loose outer garment.


G
Gaiter - A piece of fabric worn over the shoe, extending to the ankle or the knee.

Geometric Shape - A pattern, generally made up of different shapes.

Gypsy Style - Free spirited fashion, also known as the 'boho-look'.

 
H
Halter-neck - A top that wraps around the neck.

Handbag - A bag that is carried around by a woman and is usually held by straps and placed across the shoulders.

Haute - Custom fitted clothing - classy/fancy and considered high fashion.

Headband - Fabric or other material, worn around the head as a decorative piece or to hold the hair in place.

Headwear - Items worn on the head, for example a headband, fascinator, flower crown, hat or cap.

Herringbone - A v-shaped weave in the material, resembling the skeleton of a herring fish.

Hoodies - Appendage to a garment, it can be drawn over the head.

 
I
Iridescent
- A property in fabric, where fabric can change colour when light touches its surface.
J
Jackets - A garment worn on the upper body, with an open front and long sleeves. Can be fastened using buttons and a zip for example.

Jeggings - Combination of jeans and leggings, with a tight stretch fit.

Jouy Print - A white or off-white background on which a repeated pattern depicting a detailed scene is present.

Jumpsuit - Pants and top combined into one piece.

 
K
Knife Pleat
- A sharp folds in the material. Narrow pleats. 
L
Leather - A type of material which is highly sought after, it is made from the skin of an animal (i.e. cattle/cow).

Leggings - Leggings are tight fitting pants commonly worn by women.

Leotard - One piece stretch garment, that is tight fitting on the body. It has be known to cover the arms and legs.

Lettuce Hem - A wavy hemline, which is the result of fabric being stretched as it is sewn.

Lingerie - Women's underwear, often classified as intimate apparel.

Little Black Dress - Commonly known as "LBD", a cocktail dress that is essential in a woman's wardrobe. It is often short and simple.

 
M
Mandarin Collar - A small, close fitting and upright collar.

Maxi - A garment that reaches down to the ankle.

Micro-skirt - A skirt that can be referred to as a belt skirt and is very short in length. Shorter than a mini skirt.

Midi - A garment that reaches the calf in length.

Midriff - Exposed abdomen by wearing cropped and swimwear attire.

Miniskirt Pencil - Narrow, slim fitting skirt.

Monochrome Clothing - Clothing executed in black and white or in varying tones of only one colour.

Monokini - One piece beach outfit. Can reveal certain areas like a women's midriff and breasts.

Motif - A design applied to an object.

 
N
Negligee - A dressing gown fashioned using a soft fabric.

Nightwear - Clothing worn to bed.

Nylon - Light weight elastic synthetic polymer, produced as filaments, sheets, or moulded objects. This is seen as a tough material.

 
O
Ombré - Gradual change of one shade from dark to light OR light to dark.

OOTD stands for - Outfit Of The Day is showing people what they have worn for that day, or what should be showcased to others as a great outfit for one's day. A term used across social media online.

OOTN stands for - Outfit Of The Night is showing people what they have worn for that day, or what should be showcased to others as a great outfit for one's day. A term used across social media online.

 
P
Pattern - A repeated/regular type of design print.

Pedal Pushers - Calf length pants.

Playsuit - A one piece garment worn on the upper body.

Polka-dots - Known as a pattern, it involves a repetition of round dots on the fabric.

Polyester - A fabric made from polyester fibre and is classified as a synthetic resin.

Poncho - Initially a South American garment made out of a wool cloth with an opening for the head to fit through.

Prêt-à-porter - Designer clothes that are ready to wear and do not need to be custom made.

PVC stands for - Plastic Polyvinyl Chloride, referred to as vinyl clothing, it gives off a shiny look.

 
Q
Fashionably late.
R
Raglan - Style of sleeve, where a piece of fabric continues to the neck with no shoulder seam.

Rah-rah Skirt -  A short flounced layered skirt, picture what a cheerleader would wear.
Rayon - Fabric made from regenerated cellulose (viscose).

Retro - A term used to describe fashion from the recent past.

Ripped Jeans - Fashionable jeans from the 80's, where they are ripped, frayed or worn in excess, to create a distressed look.

Romper - Loose fitting shirt that is cinched at the waist and connected to shorts, to create a one piece look.

Ruching - Gathering of material on a garment, a great way to hide certain angles of the body, as the fabric does not sit smoothly when it has ruching applied.

 
S
Sarong Skirt - A garment of South East Asia, it is wrapped and tied around the body.

Scarf  - Often decorative, it is fabric worn around the neck.

Shorts - Short trousers that sit at thigh length or extend to the knees.

Silk - Produced by silkworms, this fabric is soft and luxurious.

Singlet - A garment that has no sleeves and is used instead of a t-shirt, often worn under other garments.

Skirts - Skirts sit on the waist and extend down the thigh.

Spandex - A stretchy polyurethane material.

Stockings - Stockings hug the feet and extend up to cover the legs and finish at the waist.

Strapless - A garment that does not require straps to sit on the shoulder, it hugs the body to stay on.

Stripes - A striped pattern, that is like long bands on a fabric.

Style - The way an object is designed, giving it a distinct appearance and air of appreciation.

Suit - Outer garments that are usually a two piece matching set, for example an office skirt and blazer ensemble.

Suspenders - Straps that are connected to the pants to hold them up and are strung around the shoulders. Fastened from the front to back.

Sweater - A garment worn on the upper body, it generally has long sleeves.

Sweatshirts - A loose garment worn on the upper body.

Swimwear - An item of apparel that is worn to the beach and made specifically to withstand conditions of being in water and the outdoors.

 
T
Teddy - An undergarment worn by women.

Tie-Dye - A garment that has been tied and stained with dye to create a unique pattern.

Tights - Pants that are tight fitting, covering the legs and bottom, right up to the hips! Usually ankle length.

Top - Garment worn on the upper body.

Turtleneck - A garment worn on the upper body, with a high close fitting neck.

 
U
Uniform - A distinct dress code worn by members of an organisation.

Unitary - Skin-tight garment that covers the body, from the neck to the wrists and ankles.

 
V

Veil - A headpiece, often made from mesh like fabric and can be worn on one's wedding day. Attached to the hair or head.

Vent - A split in a garment to allow for movement.

Vests - Generally vests have no sleeves, it's worn on the upper body and can sometimes come with a hood attached.

Vintage - Relates to clothing from the past and is of high quality.

 
W
Welt Pockets - A pocket set into the garment with a slit entrance, as opposed to a patch or flap pocket.

Wrap Dress - Dress that wraps around the body and can be tied to create a firm look.

 
X
Fashionably late.
Y
Yoga Pants - Flexible and stretchy, these pants fit firmly on the body.

Yoke - Part of a garment around the neckline on the front and back, extending to the shoulders and offering the garment support.



Z
Fashionably late.
Source(s): Google & Vogue. The Fashion Dictionary Copyright 2017.