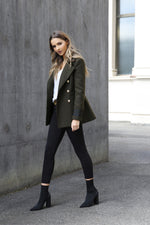 Pantone Forecasting - Greenery in 2017
We have all heard of a weather forecast, but have you ever heard of a pantone forecast?
Each morning, I wake up quickly glance through my social media apps for messages and notifications… and before I lift the doona cover off my body, alas my last app stop is to check the day's weather forecast. So I know how to dress myself for the day ahead.
However, there is another important forecast worth understanding and that is the Pantone forecast for the season.
The weather in Melbourne is always unpredictable, so every day I find myself checking the forecast for extremities. However I only have to check the Pantone forecast once a year and then it sets the tone for the most powerful colours to encapsulate our living environments for each season.
This year the Pantone colour has been named – "Greenery"
What is the PANTONE Color of the Year?

"A symbolic color selection; a color snapshot of what we see taking place in our global culture that serves as an expression of a mood and an attitude." As cited via https://www.pantone.com/color-of-the-year-2017
So what does this even mean? Executive Director of the Pantone Colour Institute, Leatrice Eiseman expressed the following, "Greenery bursts forth in 2017 to provide us with the reassurance we yearn for amid a tumultuous social and political environment. Satisfying our growing desire to rejuvenate and revitalize, Greenery symbolizes (sic) the reconnection we seek with nature, one another and a larger purpose."
From interior décors, beauty, graphic design applications to the catwalk, the power of the Pantone colour palette is always causing social effect and cultural trends.
What makes "Greenery" even more awesome as the choice Pantone colour for 2017? It is 'trans-seasonal' – therefore if fashion pieces are selected wisely they can be used throughout the year in stylish ensembles!
Pantone forecasting is a way to predict the colour palette that will trend for the season. This year's Autumn/Winter 2017 collections range from shades of black, grey and white… unearthing the natural colours of khaki green or 'Greenery', hazelnut and sandy beiges.
I am a self-proclaimed summer addict – I struggle to find any fault with a sunny day. To put it simply, I was not made for the cold, however my wardrobe is!

There is nothing more satisfying than the smell of my Italian leather knee-high / thigh-high boots and throwing on a warm knit, on a bitterly cold Melbourne day.
Just because we are encouraged to rug up… there is no reason to not indulge in the stylish options and trending colours available.
By selecting set colours – stylists or fashion enthusiasts are then in a position to pair them with complementing colours and feature pieces to create a particular feeling using set palettes, such as expressions of calmness or strength through iconic statements and moods.
I always try to look for the 'positives' in life, and admittedly my autumn and winter wardrobe always puts a smile on my face. And as per usual TZE is not missing a beat with ensuring that we are all Pantone savvy this Autumn/Winter season.
Our favourite Pantone picks from Madison Square's Clothing AW17 Range are:
1. 'Maya Coat Nude' this stunning coat oozes casual chic. Having the option of wearing this nude coat with a pair of comfortable kicks or a pair of killer pumps, makes it an even more desirable season must-have. AND this 'coatigan' has deep pockets... major bonus points!
2. 'Buckingham Military Coat Khaki' is screaming Pantone sensation. This flattering design is tailored to shape your body with sophistication. Pair this striking piece with black jeans for an edgy stylish Autumn look.
3. 'Aspen Weave Knit Cream' has just landed a permanent date in my planner, this is the knit we all want with clever signature cross panel design – it is not only eye-catching, but most importantly it makes comfortable sexy!

Team Zebra -
Tammy D