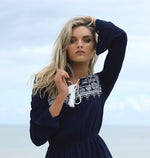 How to Pull Off a Successful Clothing Swap Party
Pinterest devotees like myself are all too comfy with the concept of decluttering, up-cycling, recycling, re-purposing, re-styling and reusing. It's not only about being savvy, saving some cash and saving the planet – it's also about being inventive, trying new things, connecting with other people and having a great time.  
It's a movement and a mindset – and it makes sense that the next biggest trend taking millennials and Gen-Ys by storm is the idea of clothing swaps.
Think about it. A bunch of girls. A bunch of clothing and accessories they each want to get rid of. A (few) bottles of wine. Cupcakes, guacamole and crackers, some good tunes and a mad few hours of trying on, swapping, trading, bargaining and donating excess clothing!
What's not to love? What might seem baggy, outdated or tasteless to you might be just what the next person has been looking for. Everyone gets rid of all their excess wardrobe items, has a great time, and heads home with some fresh and exciting new fashion - without spending a cent.
Marie Kondo would be proud!
But don't rush off to send your Facebook Clothing Swap Party invite just yet!
It may seem pretty straight-forward… but to avoid issues, make sure everyone brings home at least a few things they love (and to all remain friends throughout the process), there are a few tips you consider to ensure your clothing swap is a success.
Here are our top 5 tips for pulling off a successful Clothing Swap Party, Zebra Style:
Choose who you invite carefully
Put some thought into the sizes of the people you invite. It's no fun at all for that one petite or that one flaunting curves who won't fit into the size 10 – 14 average of the rest of the group. Make sure there's at least one match for every size. If these girls are part of your close group of friends, have a lunch before or after your swap they can come along to, or incorporate shoes, scarves, jewellery or accessory into your swap as well – they are just as much fun!
You need rules!
To make sure it's fair for everyone who comes along, you need to set (and communicate) some rules, such as:
Everyone needs to bring along the same number of items (i.e. 10)
All items should be in good wearable condition, and brought clean and pressed
The swapping will only start when everyone's arrived
Everyone should go home with the same number of items they brought with them
These rules should be included in your invitation.
You should also communicate what will happen if there are two (or more) girls who want a particular item (for example, you could draw straws, have a model-off, or flip a coin).
Also consider including a run-sheet in your invitation, and who will make sure you stick to it!
This might include a designated 15 minutes of 'browsing' time to begin the day, followed by an hour allocated to trying things on, then 5 minutes allocated to each person to make the swap.
(Don't forget to ask everyone to bring a plate for lunch or a snack!)
Donate anything left unclaimed
There's a possibility that some items may be left unclaimed. Consider donating anything which doesn't find a home, to organisations such as Givit, who make it easy to donate via an online platform, and who ensure the clothing reaches people who really need it. Vinnie's and the Salvo's are always seeking donations as well.
Merchandise!
Hold your event in a space which is free of clutter, light-filled and comfortable. A large lounge is perfect, and if you can get some tables in for your girls to use to display their wares that's even better! The more your Clothing Swap doesn't look like a laundry, the more inclined your guests will be to get into the trade.
Merchandise! If you have room, consider grouping similar pieces together (such as blouses in one area, and pants in another), hanging dresses and jackets on display, or arranging jewellery neatly by colour to create fresh and attractive displays.
Make sure you have at least a few change areas set aside which have full-length mirrors - and make sure everyone's aware of which areas are not part of the swap (so that guests don't take things by accident). 
Take some fashion risks
Now is your chance to try a whole lot of styles and cuts you might otherwise not. Go in with an open mind, and take everyone's suggestions on board! If there's a style you've always wanted to try, now could be your chance. Or perhaps there's a shade of red there you've never thought would suit – but which actually looks great!
Take some fashion risks and try on as much as you can. It won't cost you anything, and if it doesn't work out, swap it at the next party! Clothing Swaps have the most success at the end of a season, so why not make it a regular event?
You never know what you'll find. Have fun!